Frank Ely Fly Fishing
Welcome to Frank Ely's fly fishing page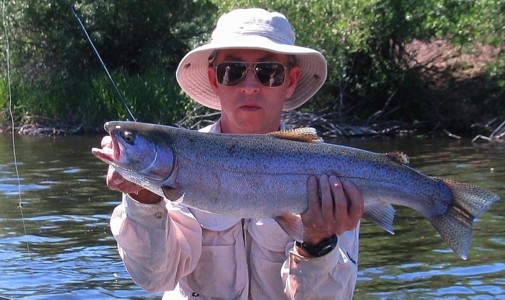 Fishing on the Williamson River in Southern Oregon is a real challenge. Most people are unaware that it is a blue ribbon trout stream with native rainbows. Trout average 18 to 24 inches and it is not uncommon to land a few fish approaching or over 8 pounds inches. Most large fish are caught on leech patterns, as was this one.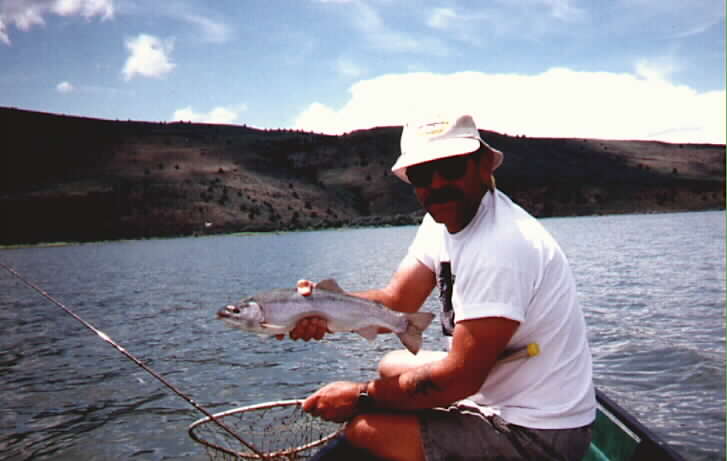 Eastern California has many reservoirs. Most of them are on BLM ground and are stocked with Eagle Lake trout. These trout are beautifully proportioned and full of energy.


Sometimes the big ones don't get away. When you catch a large fish like this on a fly it's a thrill of a lifetime.

My home is in Etna, 25 miles West of Yreka on Highway 3 at the base of the Marble Mountains. Etna has one small but very new motel (Motel Etna 530-467-5338) and several bed and breakfasts.
Fishing is the best in May, June, September and October for most of the lakes. The upper Klamath River is regulated by John Boyle Dam and is generally fishable till noon when the flow is increased dramatically. The fish in this section of the river run 10 to 15 inches on the average with an occasional fish going 18 to 22 inches. Lake Shastina is an excellent bass and trout lake. Trout typically run 14 to 20 inches with very large fish on occasion. Klamath Lake near Klamath Falls produces very large trout, many are trophy size! Other lakes in the area are; Siskiyou, McCloud, Copco& Irongate. Eastern California lakes and reservoirs are also good prospects early and late in the season. these are great "get away from it all places" and gives most people their first experience in California's "high desert".
I specialize in nymph and weighted streamer fishing. Catch and release fishing is encouraged to protect the resource.
If you just want to get away and enjoy a day fishing.............................
My E-Mail address is ...ely@sisqtel.net