WELCOME to the
MARBLE RIM GALLERY
FORT JONES, CALIFORNIA
---
WE CELEBRATED OUR REOPENING IN 2018 AT
OUR FIRST FRIDAY ON FEBRUARY 2ND FROM 6-8.
THE GALLERY WAS PROUD TO PRESENT WORK BY THE SISTERS AT THE CONVENT OF ST. ELIZABETH.

THE SCOTT VALLEY CREATIVE ARTS GUILD WAS FOUNDED TO PROMOTE AWARENESS, APPRECIATION, AND A PASSION IN OUR COMMUNITY FOR ALL TYPES OF ARTISTIC ENDEAVORS BY PROVIDING CLASSES, A GALLERY AND OTHER PUBLIC EVENTS FOR LOCAL ARTISTS TO EXHIBIT AND SELL THEIR ARTISTIC CREATIONS.
EVENTS OF 2017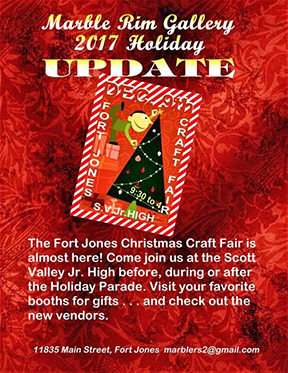 WERE YOU THERE? AT THE CHRISTMAS CRAFT FAIR ?
KEEP UP TO DATE AND ENJOY OUR LATEST NEWSLETTER
MASKS - OCTOBER, 2017
AUGUST 4TH - FIRST FRIDAY FEATURED WORK BY DON EAST
JUNE 2nd - FIRST FRIDAY FEATURED THE RETURN OF PATRICK MULONDO
JUNE - "YART SALE" - COINCIDED WITH THE VALLEY-WIDE YARD SALE
SATURDAY MAY 13TH - ARTISANS' CRAFT FAIR - FORT JONES SCOTT VALLEY BANK PARKING LOT
CLAY FOR ALL - MARCH 3, 2017
---