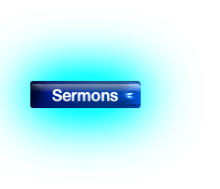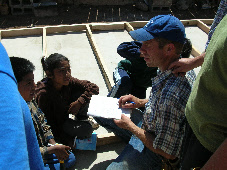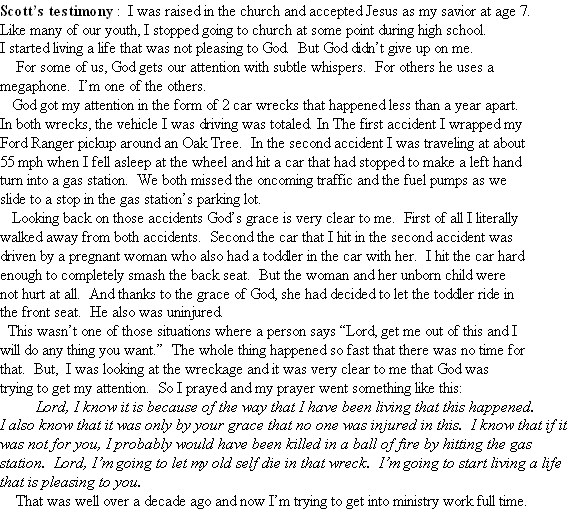 Casey Conner
3-3-09
My journey with the Lord started at the kitchen table when I was about seven or eight years old. My mom sat and explained to me the ways of the Lord and that I could ask Him into my heart if I wanted to. The truth that I could have a personal relationship with the One who created me was overwhelming. For the next few years I enjoyed talking with the Lord and experiencing His peace and love in many tender ways.
At age eleven my life took a radical turn when our parents (I have two younger brothers) told us that they were getting a divorce. I did not know how to process this event and I began to shut down emotionally. Looking back on this time I see how I judged my parents for turning my world upside down and I didn't forgive them until years later. Because of the judgment that I had on my mom and dad my heart was also walled off to the Lord. During the next ten years or so I became very hardened; and focused my energies on living for myself.
In the summer of 1989 I was taking college courses in San Diego when the Lord began to overtly draw me back to Himself. He told me that it was time to yield my life to Him and that my own sin was just as ugly as the sin of my parents. My relationship with the Lord was restored and the journey that we started together when I was a young boy resumed with the cleansing of the Lord's forgiveness.
Four years later, in 1993, another monumental milestone occurred when Sandra (my Greek wife) and I were married. Her love for Jesus and pursuit to live in His presence has given me a best friend to explore my deepest desires to know Christ more fully every day.
Now, at 41 years old, the only regrets that I have involve the times that I've chosen to live my life separated from my Lord and Savior, Jesus Christ. If you do come to know Him you'll realize that dreams really do come true.
In Christ there is peace with God
5 "Now Hope does not disappoint, Because the love of God has been poured out in our hearts by the Holy Spirit who was given to us. 6 For when we were still without strength, in due time Christ died for the ungodly. 7 For scarcely for a righteous man will one die; yet perhaps for a good man someone would even dare to die. 8 But God demonstrates His own love toward us, un that while we were still sinners, Christ died for us."
God chose, and called me out of darkness into His everlasting light. I did not choose to pour my heart into Him as He poured His heart into me when Jesus spilled His blood at the cross. God's goodness brought me to repentance as I struggled, fought, complained, resented, and kicked against the goads. Always was He there drawing me closer to Himself despite my resistance and lack of acknowledgement of the greatest thing ever done for man. No righteousness, No goodness could be found in me. I was still lavishing in my sin when my Lord, my savior, and my King, Jesus Christ laid His life down for me! Finally, after many years of running scared and tired, emotionally drained, and one step from another bad choice, ate the age of 26 God's grace over came.
My pregnant wife and I bought a piece of raw land in the mountains of northern California with the intent to build a cabin and a farm. No electricity, no running water, no phone, and myself as a total greenhorn, we are both from the city mind you --- things became real interesting. We built a small place in order that we might move onto the property, and begin farming right away. My wife is a school teacher which brought in the income to get us off the ground and running. Life was exciting but though and we loved our new enterprise of living off the land and raising a family. There was no mention, or even thought, of the Lord Jesus Christ in our home until we took a short hike up the dirt road we lived on. This is all despite the fact that both my wife and myself were raised in the Methodist church with a fairly regular attendance record. Neither of us were born again followers of the Lord with a desire to read His Word and seek His guidance daily submitting to the Holy Spirit.
Near the head of the road that we lived on in the mountains was an Indian man who lived even more primitive than we did. He was no a man that one would think, "Wow, there is a real Christian, someone who goes to church!" Instead, our first meeting was very uneasy with tension filling the air. This, however, was him testing me as I quickly came to find out. Inside, the place where the inner man exists, God was drawing me to Himself and this man was His chosen vessel to lead me. A hunger and thirst for righteousness flooded over my soul as this Indian man led me to the Lord Jesus Christ. Never did I desire anything more in my whole life and the Lord God almighty fed me and nourished me with His Holy Spirit. This man loves Jesus and is more of a real Christian that any I have met. His desire to be filled with the Holy Spirit is what it took to minister to my lost soul, only God could make this miracle come to pass. Signs and wonder soon began to follow, then the experience in the field took place.
A drought came and no longer could we farm successfully, I was devastated. As with Elijah, God took my to the wilderness to speak salvation to my soul and give me of His Holy Spirit that I might live. Instead of an angel God fed me with an Indian man out in the mountains in order that I might receive just what had been prepared to bring salvation to the door of my heart. I crawled into my cave (or cabin) and then the wind blew in the change, the earth shook up what could be shaken, and the fire purified. I found myself on my knees in my dry field looking up at a cross that I packed up to the craggy rocks over head. The words came from my mouth "Lord, I will do what ever you wish." His still small voice came, gave me the assignment, and I have been in the ministry ever since.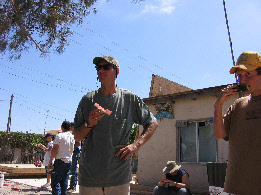 1 Peter 3:15
15 But in your hearts set apart Christ as Lord. Always be prepared to give an answer to everyone who asks you to give the reason for the hope that you have.